"At the beginning of this year, a gradual opening of the borders with Russia was expected due to the evolution of the pandemic and the relaxation or even the removal of entry restrictions for Russian tourists", they explain from the embassy. These expectations were disappointed at the end of February due to the Russian intervention in Ukraine and the Western response materialized by a battery of economic measures which are already affecting the Russian tourist sector."
"The first blow to Russian tourism was the closure of UK, European, Canadian and US airspace to Russian planes," which was followed by Russia's response with the closure of airlines from 37 countries. Now the the only possibility to fly directly to Europe are flights to Serbia with Serbia Air, or via Turkey – What has become a center connecting Russia and Europe -, Is via Cairo, Doha, Abu Dhabi, Dubai, Israel, Morocco and CIS countries. That is to say through all the countries that have air connections with Europe and Russia.
Effect of sanctions on the air fleet
On February 26, the EU banned the supply of aircraft and spare parts to Russia; Moreover, companies lease they cannot sign new contracts with Russian companies and must terminate existing contracts within 30 days. These measures have caused a crisis in the Russian aviation sector because in Russia most of the aircraft fleet is of foreign manufacture: Boeing, Airbus, Embraer and Bombardier. According to the Russian Air Transport Agency or Rosaviatsia, there are about 750 aircraft out of a total of 980 aircraft in service.
Since March 13, the Bermuda Aviation Authority (BCAA) has suspended the airworthiness certificates of all Russian airlines aircraft registered in the archipelago. According to consultancy IBA, 745 of the 1,367 planes of Russian carriers are registered in Bermuda
Previously, on March 6, the Federal Air Transport Agency (Rosaviatsiya) recommended that Russian airlines register aircraft in Russia. The agency also recommended halting overseas departures to avoid aircraft arrests.. For their part, foreign reinsurance companies terminated contracts with Russian airlines. Finally, since March 8, almost all Russian airlines have canceled flights outside Russian territory.
Flights scheduled by Russian airlines
For the time being, only aircraft owned by Russian airlines or owned by Russian lessors and registered in Russia fly abroadthey explain from the Spanish embassy in Moscow. So far, the sanctions do not affect the main operators of the Superjet 100: Rossia, Red Wings, Azimut Airlines and IrAero.
Rossia Airlines creates a center in Sochi and will start operating at the end of March with SSJ-100 aircraft to cities in Kazakhstan, Turkey, Egypt, Iran, Uzbekistan, Azerbaijan, Armenia, Kyrgyzstan and Israel
From March 25, the airline announces flights from Sochi to Aktau, Aktobe, Almaty, Antalya, Atyrau, Baku, Bishkek, Bukhara, Yerevan, CairoNour Sultan, Osh, Samarkand, Istanbul, Tashkent, Tehran, Tel Aviv, Urgench, Fergana, and from April 12 it will connect Sochi with Bodrum and Dalaman. For its part, Azimut Airlines will start operating flights to dubaiiy Tel Aviv from Mineralnye Vody from March 15.
Azimut Airlines is one of the Russian airlines that fly the Superjet 100.
Also, the airline Red Wings announced daily flights from Moscow to Istanbul on the SSJ100 from March 15, compensating for the cancellation of flights by the Turkish low-cost airline Pegasus Airlines and completing the offer of flights between Moscow and Istanbul with Turkish Airlines.
Red Wings also announced flights to Yerevan from Yekaterinburg and Chelyabinsk, following the lifting of Covid restrictions in Armenia from March 9. In addition to Armenia, in accordance with the decision of the Government of the Russian Federation, Covid restrictions on flights to Azerbaijan, Kazakhstan, Kyrgyzstan, Tajikistan, Turkmenistan, Uzbekistan and Iran are lifted.
"In the long term, however, if there is no de-escalation of Western sanctions, operations with the SSJ-100 aircraft will be compromised by lack of parts and maintenance, since this aircraft is equipped with SaM 146 engines from the company PowerJet which has French and Russian participation"
Impact of sanctions on Russian banks
the bank cards of 24 sanctioned Russian banks stopped working in ApplePay and GooglePay systems. Visa and Mastercard cards issued by these banks also cannot be used to make payments outside of Russia or in online shops registered in countries that support sanctions against Russia.
"Card blocking and a ban on exporting more than $10,000 in cash out of Russia minimize the list of tourist destinations accessible to Russians.". According to experts from the Association of Russian Tour Operators (ATOR), most restrictions will affect Russians used to traveling without a package holidaybecause due to card blockingthese tourists will not be able to buy plane tickets, book hotels, rent cars, etc.
In this new scenario, the most popular destinations will be those that work with cards from the Russian "Mir" payment system: Armenia, Tajikistan, Belarus, Kazakhstan, Kyrgyzstan, Uzbekistan, South Ossetia and Abkhazia.
"Mir" cards are also accepted by banks in Turkey, Vietnam and the United Arab Emirates. The Russian government is also working on introducing cards from the Chinese payment system UnionPay, which operates in 180 countries around the world.
They are also expected to charge destinations with an "all-inclusive" system are of greater importance among which are Turkey, Egypt, Tunisia and Maldives.
The resistance of the Russian TTOO
"In order to cope with this difficult situation, Russian tour operators have been forced to redirect their sales to domestic destinations, although it is planned a contraction in demand due to the impact of sanctions on the income of potential tourists". This, with temporary closure of 11 airports in southern Russiahas sunk between 30 and 50% of sales tour operators to national destinations.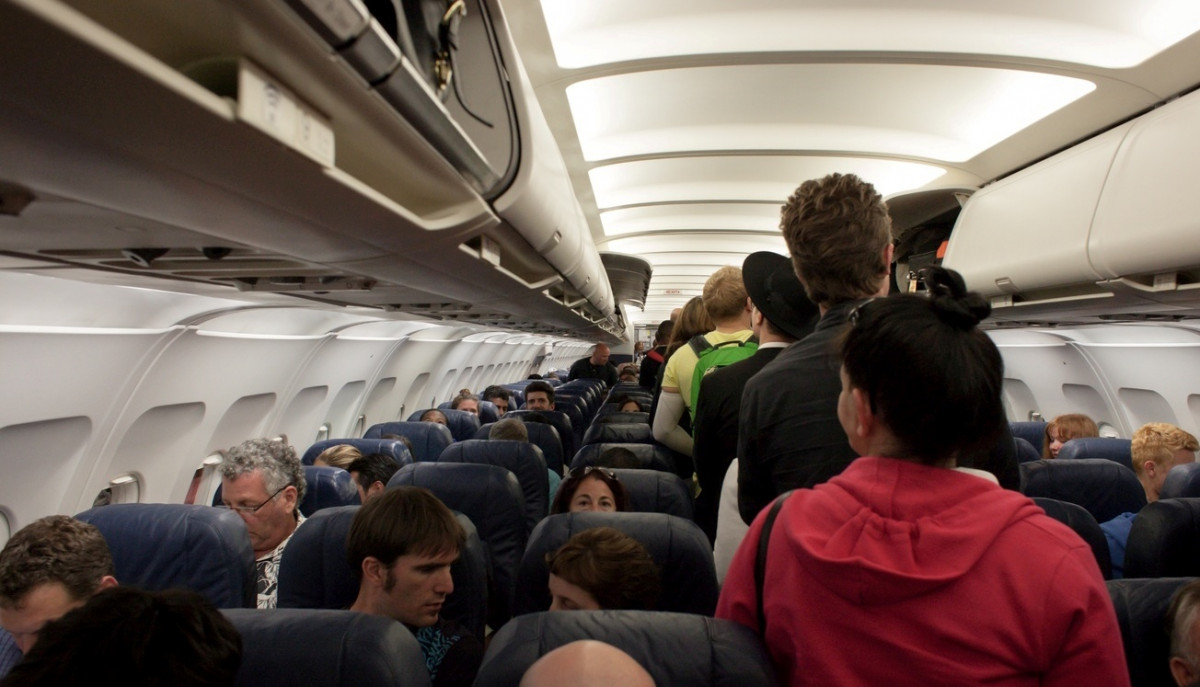 Russian travelers returning home on a repatriation flight. ATOR photography.
"The exit of Booking.com and Airbnb from the market is seen as an opportunity to increase sales for tour operators and travel agents, although at the same time there are fears that the Russian platform Yandex will fill the gap left ", point out from the Spanish Embassy
In international travel, sales are now down 70%. Turkey, Egypt, United Arab Emirates, Tunisia, Azerbaijan, Georgia, Armenia, Israel, Qatar, Maldives, Thailand and Vietnam are the most requested international destinations for Russian tourists .
The The Union of Russian Tourism Industry (RST) recommends Russian tourists to travel abroad as part of organized groups or with a tour packagetake out travel insurance and travel only to countries that have not closed airspace.
More information:

-How are the Russian TTOOs coping with this crisis?

-Russians fly west via Serbia, Turkey and the United Arab Emirates

-Which countries participate in the MITT exhibition in Moscow?