On November 18, Italian police carried out nationwide searches of the homes of suspected members of the online anti-vaccine group Viral_Vendetta. They were accused of having set up a secret association to come together to commit crimes and cause damage. Among his real-world actions are a slew of graffiti in schools, streets, medical centers, harassing public figures or disrupting the vaccination appointment system, calling to book and then changing the appointment. you or not to show up.
The most persistent actions of this group, however, take place on the Internet. Viral_Vendetta is coordinated in Italy in a central channel on Telegram with more than 18,000 members as well as smaller subgroups dedicated to the organization. Meta (Facebook's new name) announced in its latest threat report that it had taken down "a network of accounts from Italy and France threatening medical professionals, journalists and politicians with harassment from mass". This was the first time that Meta had warned against this particular type of action: the "make the bridgeor "brigade attack," which, in tech parlance, refers to "networks where people work as a team to comment, post, or participate en masse on other platforms to harass or silence" their victims. The actions, in addition to Facebook, are also taking place on YouTube, Instagram and other platforms, coordinated from Telegram.
This type of harassment to silence opponents is not new. The novelty is that Meta has included it in its list of actions that can lead to account suspension. In association with Meta, the network research company Graphika has produced a detailed report on Viral_Vendetta. "We have observed what appears to be a growing populist movement that combines existing conspiracy theories with anti-authoritarian narratives and health misinformation," says the text, which estimates the organization has some 20,000 followers in across Europe. "The group claims to be a self-organized collective of internet 'warriors' engaged in a guerrilla campaign of 'psychological warfare' against the oppressive forces of 'medical Nazism'." The logo is inspired by the movie V for Vendetta, whose masks and imaginations have already been used in other revolts.
Viral_Vendetta was born in Italy in 2020 and in recent months has grown in the heat of protests against the obligation to use the Covid passport or Green Pass. The main difference between this group and other anti-vaccine channels on Telegram is that it has a structure and aims to choose its members, the "ViVi warriors", which, in addition to being an acronym, means "living" in Italian. France is the second country they try to conquer, with a community that does not reach 2,000 people. In Spain, they thrive on translations from Italian, some sporadic graffiti, and a 140-person Telegram mini-channel where most of the activity comes from the original group and translations from Italian.
The proof however of their level of organization is that they already have initiation sub-groups. According to a French community insider who told his case on French TV channel LCI, would-be 'ViVi warriors' should listen to about 90 minutes of conspiracy theories about 'Nazi Bill Gates', microchips and intelligence artificial, then respond. to five questions in a private Telegram conversation with an administrator (four in writing and one with audio). At the end, they have to give personal details such as email address and Facebook account. Meta detected fraudulent activity in this group in part because there were members managing multiple Facebook accounts.
This internal gamification and graduation process sets them apart from other such communities in Europe. "I wonder if for some of the most active members of the V_V movement, it's like an online game that they've lost control of," said Jack Stubbs, Graphika's vice president of intelligence, over the phone. "It's certainly not a joke, but we've seen an element of gamification in the way they're set up, especially in the similar induction and recruitment process," he adds.
Viral_Vendetta seems to attract new members to traditional social networks, like Facebook, and then direct them to Telegram, where they are organized in a more hierarchical way. Once a member becomes a "warrior", they receive a number, which gives an idea of ​​their seniority in the group. This number, together with the logo, is added to the Facebook profile, which gives the status. The proof that there are very few of them in Spain is that it is easy to find the first members.
In Spain, the "initiation" channel of Telegram, accessible only with a link, has 120 members. Besides some graffiti in the north of Madrid, the most "disruptive" action they took was to attack the comments of a post on Facebook by the Mallorca newspaper entitled "The pediatrician of Educovid points out that children between 5 and 12 years old are the age group with the highest number of infections". In the dozens of comments you can see the logo and messages of this group's activity, which are always written in capital letters. Although it is a Spanish medium, the majority continues to be Italian members of the group. In the post, it says there are over 1,000 comments, but far fewer appear when viewed. Abandoned comments may have fallen victim to Meta's operation against Viral_Vendetta.
Their messages include a "warrior's dodecalogue" where they lay out their aspirations: the importance of the double V symbol, anonymity as a basis for suppressing the ego or the rejection of physical violence. Among these principles is his broad interpretation of the term "no-vax". "The no-vax has become anyone who defends the right to be able to say no to health treatment, whether diagnostic or therapeutic," they say.
The clarity of certain messages without nuances and the fact of qualifying as Nazis all those who do not think like them are other characteristics of the group. For example: "The V_V fight for freedom and rights and those who want to take them away from us are Nazi criminals." Also, the centrality of the digital struggle in a world dominated by "mental manipulation": "It is not raining bombs but we are always in danger.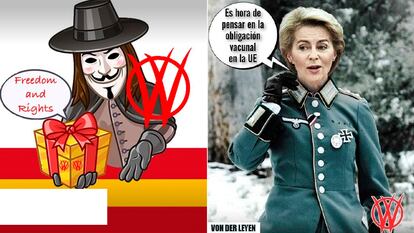 "Online actions are fundamental", they say in this list of start, "porque es un territorio en el que el system opera con la manipulation y la propaganda y los V_V deben actuar coordinados, ocupando el territory online con la contra propaganda y con el símbolo que representa la lucha no violenta de todos por la libertad y los rights. Occupying more territory online than real, gives resonance to the fight".
The group's Telegram channels celebrate each of the news articles, the actions of the police or Meta against them under the apparent premise that each appearance is positive and serves to control space. "We think they're deliberately trying to get public attention and crave notoriety," Stubbs says. "When they are written about in the media, they celebrate it. After the announcement of Meta, from our report, we saw comments saying it was a big hit which shows they are reaching the center of society. But I think it's really important to educate people about these types of groups and movements that are involved in tangible, harmful behavior."
These groups not only aspire to make themselves known to the general public but also compete with each other for the attention of the faithful. The Italian organization Viral_Vendetta and its French and, to a lesser extent, Spanish and British tentacles could be the competition of the German Querdeken if one day one of the two aspires to be the reference conspiracy movement in Europe, just like QAnon in the States -United. , and manage to bring together the growing number of people with unfounded fears about the pandemic.
Speaking after the police operation in Italy, the Vice-President of the Italian Assembly's Constitutional Affairs Committee, Annagrazia Calabria, said: "Police operations against No Vax activists, a disturbing and surreal image emerges, in which the protest against the vaccination campaign takes on the characteristics of a sect with different levels of initiation into violence".
You can follow EL PAÍS TECNOLOGÍA on Facebook Yes Twitter or sign up here to receive our weekly newsletter.