I like the freshness of Julia, of my dear Julia, who is about to change her surname to a more drímico (de dreamer, dreaming), although it seems almost impossible to overcome it in daydreaming. Yes, Julia, Higueras, signs in some places like julia atuswhich is just an acronym for Last night I had a dreama magnificent title for a formidable means of communication that he created in the form of a magazine and which today also has a radio program and a YouTube channel.
Julia accompanies me fortnightly on the podcast BEEN (Women Action Sustainability), committed as he is – we are – to sustainable social transformation. But a week ago, he missed – we missed – the appointment. Atus had moved to where many of us were with our hearts and even sent help and where she, millions of times braver, wanted to be and be present: the ukrainian war.
While visiting the Universal Exhibition in Dubai, he learns of the beginning of the invasion. And he decided to respond to the call of his race, which is none other than that of journalist, know and let us know the horror. "I couldn't believe it and decided it was my duty to go. I always talk about human rights, but also about human duties, and mine, having a cultural, social and ecological magazine, had to be there. So I came back from Dubai, organized the trip and we left.
Julia speaks in the plural because the adventure, which moreover ended alone, could not begin alone. And to cover a war, I needed a big photographer as Alfonso Ohnur, with whom he has already worked on several occasions. "Besides being a fan of the magazine, to go to a place like this where you don't know what you're going to find or what's going to happen, you have to go with someone you know. We worked very well. We share a small apartment; he slept on a sofa and I in bed. We were connected in the same way. We had the same goal. We got up super early. And we used the BBC as a source of information.
Madrid-Krakow by plane, by car to the border between Poland and Ukraine, fifteen minutes from entering the country where they also stayed one day, "in Mostyska; we were about to get into a car that was going to Iviv, but two colleagues told us that it was dangerous and that we were not prepared, so we stayed near the border. Two days later they bombed Iviv"…
As if to have nightmares, which I know Julia suffered from, although she claims not to have felt fear, but to have returned from those ten days with a "frozen soul. It cost me dear to recover, it cost me dear. I am still very touched, and I know it because I start writing and the emotion does not go away".
Question: What are your impressions of the border and Ukraine?
Answer: At the border you noticed a pre-war atmosphere, these are energies that you cannot explain. We saw a lot of soldiers at the border to enter Ukraine, there they kept us for twenty minutes on the clock. When we passed and they returned our passports, I started talking to the people who were there and suddenly I turn around and see that Alfonso has been grabbed by two two-meter guys. Because? Turns out you can't take pictures at the border, and he had made some sort of tent that said "Legion" where the mercenaries were recruited. I took out the international press card and the magazine card and they took it out…
"In Ukraine, you didn't see much difference, except for two things: the Orthodox churches and the feeling of emptiness, an emotional wasteland"
What we were able to assess was the different feeling of being at one border and another. In Poland, there was organization, acceptance and joy. There, at the border post of Medyka, where the refugees set foot on Polish soil for the first time, were all the volunteers, who even made soap bubbles to make the children who arrived smile; to the women who came alone with their children, some with their mothers… They gave them telephone cards so that they could call their families, there were hot dishes, tea, food for animals… and civil protection and the NGOs were trying to do their best, until the baby strollers…
And on the other side of the border there were no more officers, only women because men are at war and they arrested you because any journalist is a threat, since he could be a Russian spy . You meet the mercenaries… and you see a huge line of cars, buses, people who have gone to help and come back, and the huge line of women with children and elderly people waiting to enter Poland in a cold horrible. Then, in Ukraine, you didn't see much difference, except for two things: the Orthodox churches, so different, with their golden domes, and the feeling of emptiness, of cities without inhabitants, without animals, an emotional wasteland.
Q.- Tell me about an image you brought back from this trip.
A.- When we first went to the refugee center, I met a woman from kyiv with her 7-year-old daughter Kira. The mother spoke English and told me about her experience, and while the daughter pulled my sweater sleeve over and over and just said "thank you", over and over… I'm sure that was a word he had learned during the exodus because he just repeated that and smiled at me. I'm going to get this girl, because I know they came to Madrid in a bus chartered by a priest.
Julia has anecdotes for a book and the setting is for a screenplay. I have goosebumps to imagine this passage, this corridor, at the end of which buses wait to take the refugees to Tesco, a former shopping center "where they decide what to do with their lives. Of the shops, only a pharmacy remained, where I bought caps. An elderly lady and her daughter approached me, but they spoke to me in Ukrainian and of course I did not understand them, they entered the pharmacy and I asked the pharmacist if I could help them… They needed medicine and they had no money because the Ukrainian currency lost its value. I offered to pay them. The pharmacist herself, of Ukrainian origin, had paid for many drugs to other refugees, but he had no more money. I settled the account, and when it was time to leave, the lady threw herself into my arms and began to cry. It hurt my soul.
Q.- Should Putin be tried for war crimes?
A.- Of course. He is also like Attila, he uses the scorched earth strategy and he leaves Ukraine totally destroyed. be a war in Diffusion, you can follow it up to the minute; though he hides it from his people, nothing is hidden from us in the West.
"Where are the European values ​​that we brag about so much?"
Q- On Thursday, March 31, Russian troops withdrew from Bucha, this town 30 kilometers from kyiv which suffered a real massacre. The fact that up to 300 civilians have been found dead has once again fueled the need for tougher sanctions against the Russian president. Do you think Europe has been or is being soft?
A.- I don't know how you can consent to what you are doing. Why didn't they strangle him before (financially speaking). If they can apply tougher penalties, why haven't they already done so? How many people have to die, how many corpses do we have to see for the Putin government to be economically strangled? There are a lot of details, a lot of things that we miss here. And there is a lack of will… All of this makes me helpless and insecure. Where are the European values ​​we boast about so much?
Too many questions together, Julia. Like those made by the Austrian writer Stefen Zweig. I read in his Diaries that he described at the beginning of the Second World War the window of a bookshop in which the Mein Kampf with international jew of Henry Ford and his own biography of Mary Stuart. It was a way to verify that during the war "nothing stops" and people go on with their lives that "governments then slowly transform". Too bad he chose suicide with his wife, in Brazil, and that he missed the outcome and the renewal of Europe, of the world, of reconstruction…
Q.- Observing the war closely, did you also have the feeling that there is a part of life which continues its course as if there were no bombs?
A.- Totally. In Przemysl, the day we returned from Ukraine, life was still the same, as if nothing was happening, apart from the soldiers, who suddenly passed…, people went in cafes to drink coffee… When we came back from the border and walked around the city, this feeling shocked me. We went to dinner at a restaurant that I saw on the internet and the volunteers were there and I had a wine and an Alfonso beer, and we had a toast.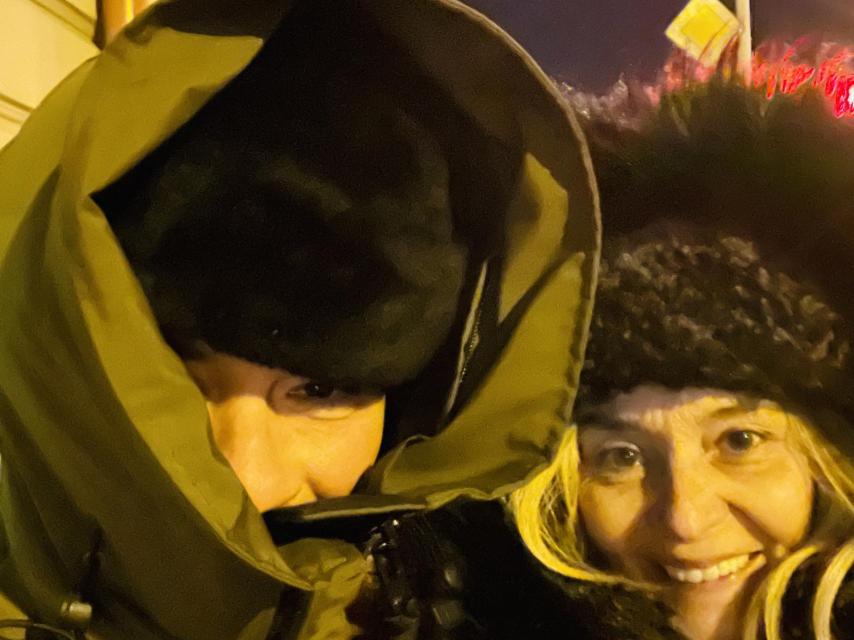 The Zweig case, by the way, was a disgrace. He had a lot to say and missed a wonderful time. The learning is that you don't have to throw in the towel, but work to make it a bad dream. And work on forgiveness, because otherwise, you remain attached to what you have lost; we must forgive to continue the path towards what brought us here.
Q.- If Julia Higueras were a politician instead of a journalist, what would she do?
A.- The answer is difficult. But of course push the dialogue to the maximum, also increase the blockages to the Putin government as much as possible, everything that allows him to wage this war, defend the values ​​of the European Union. I would meet the other European politicians to conclude a very solid agreement with a homogeneous strategy. I think there are leaders missing and they are a bit lost, each putting out their fire.
If it was politics, I would be above what it means to continue to rule my country, because I would do things that might be unpopular…, or maybe not, because maybe doing things would make him better, I wouldn't think about votes. I can't imagine a Churchill acting like that. What would matter to him would be that this war caused as few deaths as possible. There is a lack of statesmen, leaders with values, with focus, with charisma…
"I think there are leaders missing and they are a bit lost, each one putting out their fire"
Q.- Is there also a lack of civil mobilization?
A.- I think young people are deflated. I would be on the streets all day demonstrating, but Europe lives in the welfare state and that makes us a little sick. We see what is happening, but we don't want to lose what we have, our rights and benefits… We are very anesthetized. Perhaps the singular thought is penalized, but I would like a mobilized civil society.
Q.- Knowing what you know today, would you come back to the conflict?
A.- In fact, we are going to come back. We will do it for Romania, for the Siret because it is the hot spot at the moment.
More than 24,000 people died during the occupation. The displaced are counted at around four million. Julia raises her prayer: "Let it end as soon as possible, but also the propaganda of all stripes. That people suffer as little as possible, especially children who do not wage war and are the most affected. May we help them. May we not forget them." And I'm still excited.
Russia–Ukraine War
Follow the topics that interest you