First Cairo, then Riyadh. Turkish diplomacy is working hard these days. The objective of the mediators is to establish new bases for relations, which have been very tense lately, with certain Arab countries, in the first place with Saudi Arabia and Egypt. The link with the two states had frozen in recent years following a series of controversies.
Since Turkey has a rather complicated relationship with the European Union due to a number of contentious issues, such as human rights, the dispute over gas reserves in the Mediterranean and refugees, it is also generally quite isolated from the international community.
By targeting Arab countries, Turkey is mainly trying to stop being perceived as a stubborn and difficult partner, John Sfakianakis, research director at the London-based Gulf Research Center in Riyadh, tells DW. But he doubts that the new initiative will lead to better relations: "The contacts seem to be the first attempts. But I don't think economic and diplomatic relations will improve substantially.
Negotiations with Saudi Arabia
At least there is a willingness to talk: Turkish Foreign Minister Mevlut Cavusoglu visited Saudi Arabia earlier this week to begin talks. Topics abound. These days, an extremely important issue will be the different positions towards Israel. The current conflict between Israel and Hamas affects relations between Arab countries which, like Saudi Arabia and the United Arab Emirates (UAE), are looking for a new horizon in their relations with Israel.
Saudi Arabia has been working behind the scenes for years to improve its ties with Israel. Turkey, on the other hand, vehemently opposes such tendencies to normalize relations. This is why Riyadh, whose diplomacy is traditionally discreet, is now under pressure.
Positions also differ in other areas. When Saudi Arabia and its allies – Egypt and the United Arab Emirates, among others – began a boycott of Qatar in the summer of 2017, which has now ended, Turkey supported the emirate, in particular by sending the food. What unites Turkey and Qatar is mainly their good relations with the Muslim Brotherhood, whose social revolutionary interpretation of Islam is a thorny issue for Saudi Arabia. Last November, the Saudi Religious Council, affiliated with the state leadership in Riyadh, called the Muslim Brotherhood a "terrorist organization".
Above all, the assassination of Saudi journalist Jamal Khashoggi in October 2018 at the Saudi consulate in Istanbul continues to weigh on relations between the two countries.
Saudi journalist Jamal Khashoggi, murdered at the Saudi consulate in Istanbul.
The extent of Saudi Arabia's dissatisfaction with Turkey is revealed, in addition to the boycott, also in the fact that the Saudi kingdom announced in April that it wanted to close a number of Turkish schools.
"Since Biden became President of the United States, Turkey has shown signs of the beginning of reconciliation to reduce tensions, but this is a stage of weakness shown by Erdogan's failure to achieve his goals in the Middle East," Fadi Hakura, a consultant and Turkey project manager at London-based think tank Chatham House, told DW.
In general, Turkey acts in a weak position, explains Fadi Hakura. For example, because it is lagging behind in attempts to bring Arab countries closer together. "Because of this rapprochement, Turkey's political trajectory is superfluous. Until recently, it could take advantage of tensions in the Gulf, but now this is no longer possible."
Friendly signals to Egypt
Turkey also apparently wants to create a new base for its relations with Egypt, a close ally of Saudi Arabia, after years of freezing. In 2013, the Turkish government strongly criticized the coup against former Egyptian President Mohammed Mursi, from the ranks of the Muslim Brotherhood. Morsi was overthrown by the Egyptian army and since 2014 Abdelfatah Al Sisi has been president. Turkish President Recep Tayyip Erdogan said on Friday May 7, 2021 that his country wishes to strengthen the "historic" friendship with Egypt, following direct talks between senior diplomatic representatives of the two countries.
"Egypt has been very careful to keep bilateral disputes out of its economic relations with Turkey," Hakura said. In other words, the main players in the region have tried to separate economic relations from political conflicts, which is reflected in the popularity of Turkish soap operas and the import of Turkish products, such as furniture or sanitary products, among other diapers "Turkish consumer products are perceived positively due to EU quality controls," he added.
Despite the recent meeting, the Egyptian government has repeatedly accused Ankara of pursuing a "neo-Ottoman" foreign policy based on power politics.
That course is unlikely to change, says John Sfakianakis of the Gulf Research Center in Riyadh. "The neo-Ottoman style is unique to Erdogan. This can be seen in the symbolism that covers the conversion of Hagia Sophia into a mosque. He does not want to move away from this style", underlines the expert.
Libya and Turkey
More important than the bilateral relations between Egypt and Turkey are the different positions of these countries regarding the Libyan conflict. For years, the two have been opposites. Cairo is particularly bitter over Turkey's support for Fayez Al Sarraj, former prime minister of the "government of national accord", which includes Islamist forces. This is one of the main reasons why the government of Al Sisi supports the rival government of Tobruk.
During a visit to Libya in early May, Turkish Foreign Minister Mevlut Cavusoglu tried to legitimize the presence of Turkish troops in Libya by pointing out that former Libyan Prime Minister Al-Sarraj had requested it.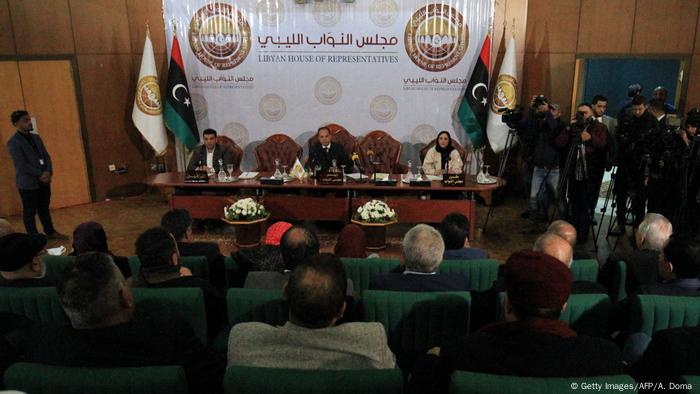 Crisis session of the Libyan Parliament on the military intervention of Turkey in support of the government of Tripoli, recognized by the UN.
However, Turkey's strongest argument for staying in Libya is based on the dispute over the use of gas rights in the eastern Mediterranean, in which it is currently embroiled with several coastal states, including Egypt.
As long as Turkey stays on this path, fundamental improvements in relations are unlikely to be possible, says John Sfakianakis of the Gulf Research Center. However, all parties should be aware that their approach will also bring benefits. And yet, according to Sfakianakis, "it is doubtful that Turkey is ready for a substantial reorientation of its policy".
(pcs/ers)