Russia's outbreak of war against Ukraine last week caused an automatic spike in flight cancellations to and from Russia, according to data from Forwardkeys, which points out that on February 25, the day after from the beginning of the invasion, against each booking made to travel to Russia six other pre-existing ones were cancelled. The source markets with the highest booking cancellation rates, by volume, were Germany at 773%, France at 472%, Italy at 15%, UK (254%), India (285%) and Turkey (116%). "Russian tourism was starting to recover after the pandemic and now it is going to take another hit. There will also be severe impacts on destinations that rely heavily on Russian travellers," warns Olivier Ponti, Vice President of Insights at ForwardKeys, noting that current booking data They still do not include the impact the sanctions will have on Russian citizens.
Along with the arrival in Russia of travelers from other countries, the invasion also caused the collapse of Russian market travel abroad. Among the destinations that suffered the highest immediate cancellation rates from Russian tourists during the February 24-26 period are Cyprus (300%), Egypt (234%), Turkey (153%), United Kingdom (153%), Armenia (200%) and Maldives (165%).
Data from ForwardKeys shows how, before the conflict, flight bookings from Russia for March, April and May had recovered to 32% of pre-pandemic levelswith some holiday destinations "performing exceptionally well".
Mexico leads in flight bookings, which were 427% above 2019 levels. It was followed by Seychelles with bookings 279% above pre-COVID, Egypt with 192 % and the Maldives with 115%.
Similarly, travel prospects during the summer months of July and August were also markedly optimistic, as flight bookings stood at 46% of 2019 levels, with some destinations like the Maldives where they were 78% above pre-pandemic levels, the Seychelles, 275% above, and Egypt, 216%.
Cancellation rate compared to reservations.
Most affected countries
ForwardKeys warns that for some of these countries, such as Seychelles, Maldives and CyprusRussian tourism represents a high percentage of all international tourism, so a collapse in Russian travel will have serious consequences for their economies, which are heavily dependent on tourism.
Thus, he argues that the countries which have started to suffer the most from these cancellations are Armenia, where Russian travelers should represent 47% of all tourists this spring, Azerbaijan, with a Russian market weight of 44 %, Uzbekistan, with 34%, Bulgaria, with 18%, Seychelles, with 16%, Maldives with 15% and Cyprus, with 13%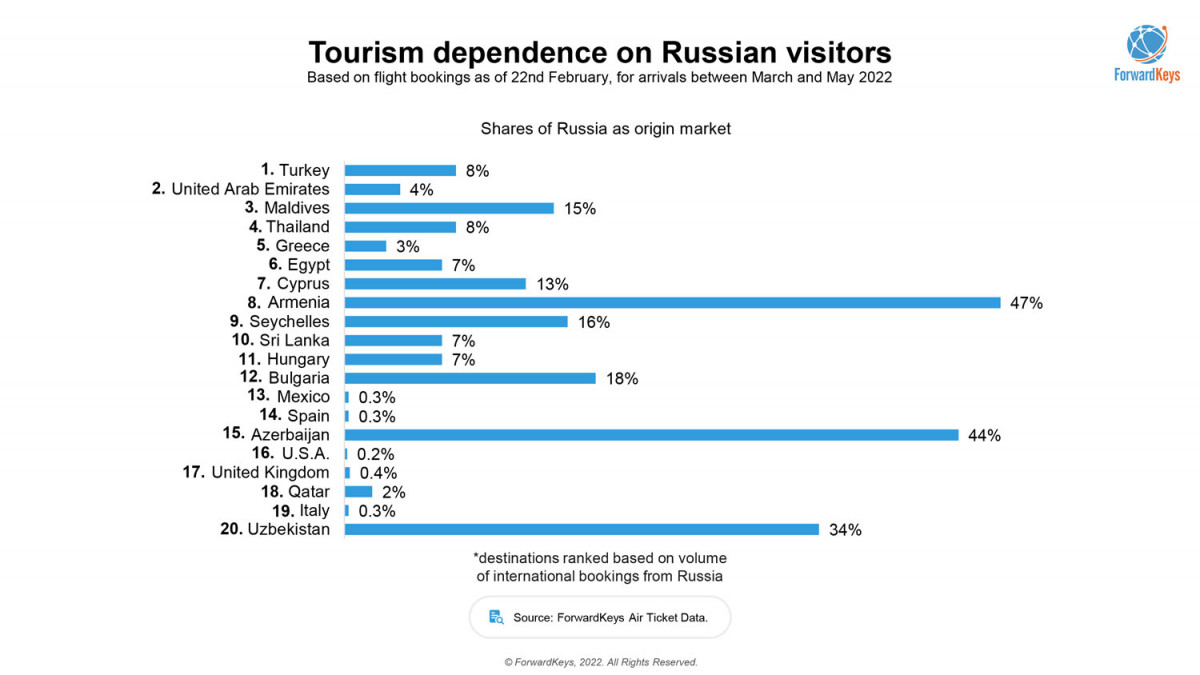 Most booked destinations by Russians
Before the outbreak of war, the twenty most booked destinations by Russian travelers in March, April and May These were, by total reservations, Turkey, United Arab Emirates, Maldives, Thailand, Greece, Egypt, Cyprus, Armenia, Seychelles, Sri Lanka, Hungary, Bulgaria, Mexico, Spain, Azerbaijan, United States, United Kingdom, Qatar, Italy and Uzbekistan. , based on ForwardKeys data.
In this way, the resumption of flights in the Russian market after the collapse caused by the pandemic was cut short by the invasion.
As of February 23, Russian domestic flight bookings for March, April and May were 25% higher than pre-pandemic levels, but these new bookings fell by 77%, a week after the attack.
"The outbreak of war always has a very detrimental impact on the travel industry; And that's what we're seeing here, with massive cancellations of flight reservations to and from Russia."laments Olivier Ponti, Vice President of Insights at ForwardKeys, noting that if there is a successful ceasefire and peace talks, travel prospects could improve.
"Although the economic damage is terrible, it is nothing compared to the human suffering experienced by people on the battlefield," he says.
More information:

– Cerrojazo to Russian tourism: the seven most affected destinations in Spain

– The threat of "psychological fear" of traveling due to the war in Ukraine

– CEHAT fears that the war in Ukraine will affect Easter reserves

– Fall in hotel reservations: the war in Ukraine destabilizes demand

– Russia-Ukraine: hotel reservations in Spain drop by 18%