2022-01-24
Maria Fernanda Rodriguez
Photos courtesy of Betsabeé Romero
In order to highlight our culture in the Mexican pavilion of Expo Dubái, the visual artist Betsabeé Romero, made a fabric made with flowers by the hands of a hundred Mexican women, from Etzatlán in Jalisco, which resulted in the impressive — and unique — envelope of our country's space.
To find out more about this moving work, we spoke with Betsabeé about his creative process and the challenges of the said exhibition.
Betsabeé's artistic language includes installations, object art, interventions and videos, all with a particular mix between contemporary art and popular art. Her work also highlights issues of social importance such as migration, gender perspective and roles, Mexican traditions, religion and miscegenation.
The Wondrous Fabric is based on the concept of creating something that would unite a disjointed world, in which the social fabric, in addition to being broken, has many cracks or contexts that trigger disunity. With this in mind, Bathsabeé looked for a material that would be a message in itself, thus arriving at fabric. With this discovery, the visual artist began to look for weaving traditions in Mexico with which she could quickly work. Despite mastering textiles and weaving, the goal of the project was to find a way to work as soon and as quickly as possible in such a large format, and that's how she met the weavers of Etzatlán , Jalisco.
Betsabeé found this community thanks to the news that they had won a Guinness record with crochet that had covered almost the entire city, all made by women.
"I felt that in this community there was more than a fabric, not only of a great craftsman or of a family but of a larger community, organized and with a particular objective of transmitting a message and j I had the chance to connect with Lorena, the woman who helped us coordinate this huge project. Also, I found it very interesting that she and her mother, who started these movements in Etzatlán, mourn the death of their father and it seemed to me a very precious emotion, given that in recent years we have all had to face difficult grieving processes, given the situation, the fabrics acquired more emotional connotations. it all had meaning: the women, the situation of loss, and the characteristic union within us of forming a network of support when the going gets tough. We intended to convey how great our strength is in the face of loss.
Weaving had moved from personal and family to social in the community of Etzatlán. The intention of the Mexican artist was to make lines and loops, a solar centrifugal figure, including, in addition to the hexagons, a distinctive icon to achieve a figure alluding to harmony with the cosmos. Its main intention was to weave the stories of women and to create links with them.
"For me, the fabric itself was perfectly combined with my interests; As an artist, I am very interested in intervening in public space and architecture, in addition to working with artisans, synergy and collaboration with communities. I am also very interested in working from a gender perspective. Sometimes I generally start with very masculine objects; With this project we have carried out an arduous investigation of some contexts of gender violence that have been increased by the pandemic, from our country to the Arab world, above all we have sought techniques and materials that had the consistency to carry it out. good ".
For Betsabeé, there were many limits to this project, from the budget to the time, which was very rare for its realization.
"I have worked with many artisans for years, many of whom already have my knowledge. On this occasion, it was the first time that he had contact with this community and it was a national commitment. We were faced with a constant chain of calculations and design work that had to be very precise and punctual. It was impressive to see that in Etzatlán they received the project in such a committed and professional way that in just 2 months we managed to finish 7,000 meters of fabric and without any errors. We were in constant communication and monitoring the results; without a doubt one of my biggest supporters was Carlos Baca. The coexistence with the craftsmen was really very weak and even so the result was incredible".
The result of the fabric has not only the artisans of Jalisco as protagonists but also the assemblers of Dubai, who with specialized techniques have managed to ensure that the fabric does not hang or damage the structure of the building, in managing to perfectly maintain the geometric shapes. There was a lot of work behind to generate the right support in the intervention of the wall, which was completed in 3 days thanks to textile specialists from Bangladesh and Pakistan.
"The logistics of staging this work were crazy, given that none of us spoke the same language. Despite this, the fundamental code for understanding each other was the language of the fabric, it was very moving.

We might not have the biggest pavilion, but we were the only hand-woven pavilion with ties beyond the staff. We Mexican women have our hands open to the world.
For the Mexican, to continue promoting the work of our craftsmen, it is necessary to include very rigorous research on our traditions and our links with our lands, also supporting the census of these workshops and seeing how they can be helped to survive, pursuing the intergenerational heritage of these stories. It is clear that many techniques have been lost despite the resistance of communities to continue to maintain the strength they have. Others persist despite tourism, as they are part of community life cycles, popular festivals, etc.
"I thought there would be more fabrics from other cultures around the world, however, globalization has eclipsed the traditions of peoples. Design undoubtedly has a lot to contribute, however, we need respectful and thorough research to avoid colonialist visions and preserve tradition from a more human perspective. You have to do everything from the territory of dignity and from a very honest point of view about it.
Expo Dubai gives us unique perspectives: having the texture and depth offered by a hand-woven structure is unparalleled. The work of Betsabeé, Carlos, Lorena and the artisans has been an example of friendship, commitment and unity. A characteristic example that it is the synergy with other disciplines that marks opportunities for improvement, but, above all, that art is pure communication and communion between common goals and feelings so that the world ceases to be so broken and disjointed.
We deeply appreciate the shared experiences, in addition to these human emotions, of visual artist Betsabeé Romero.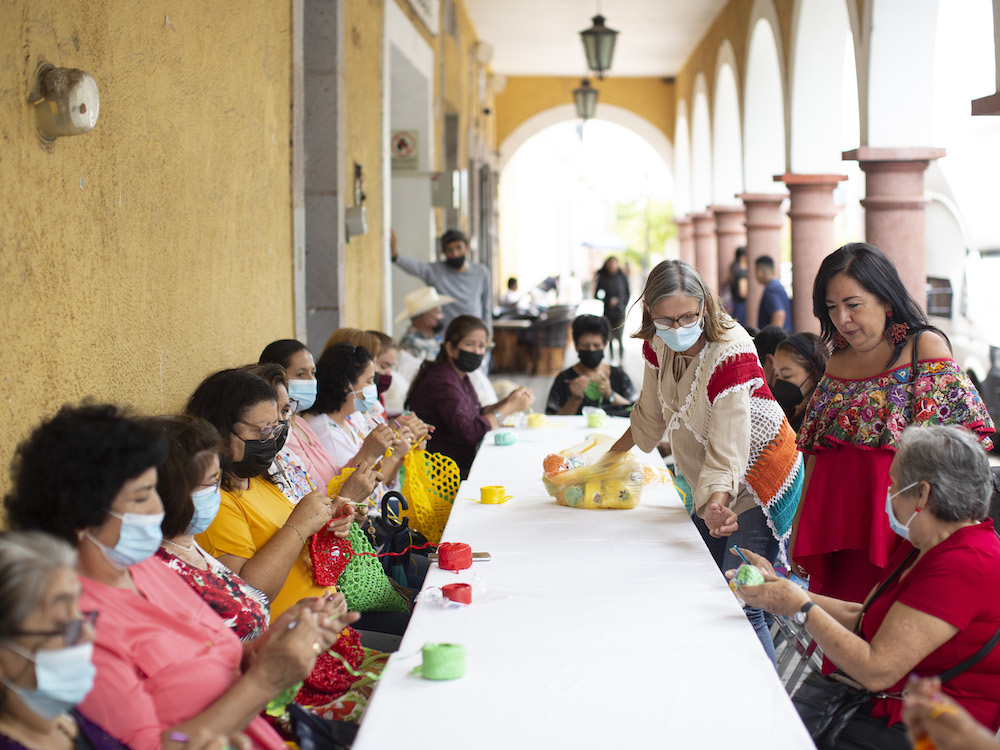 Weavers of Eztatlan, Jalisco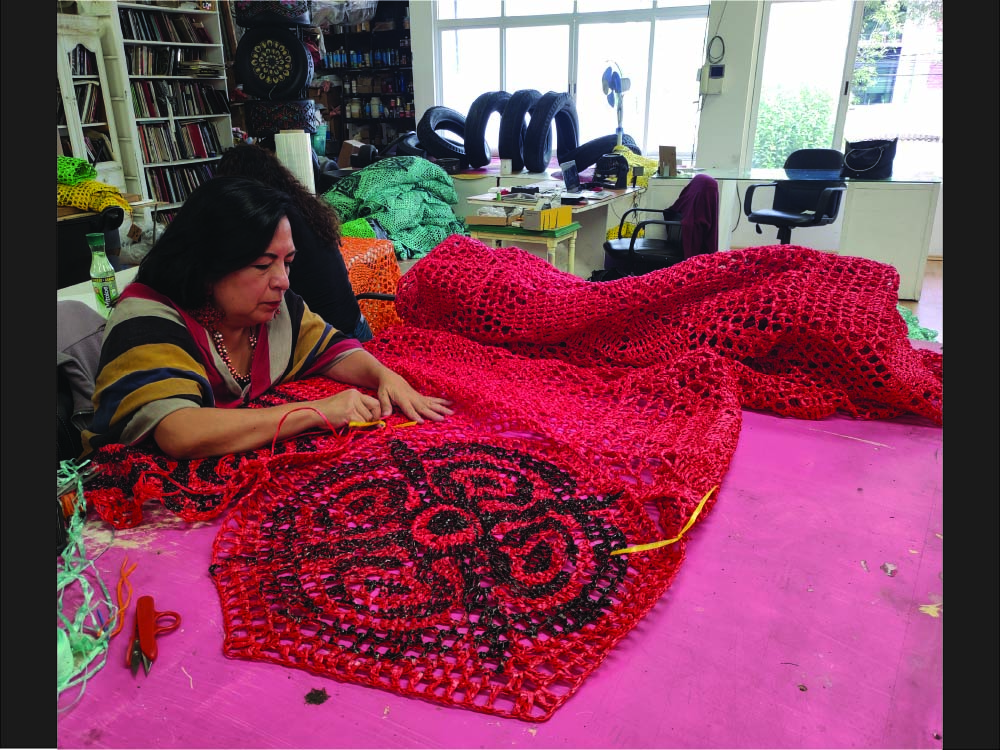 Weaving ties, spinning stories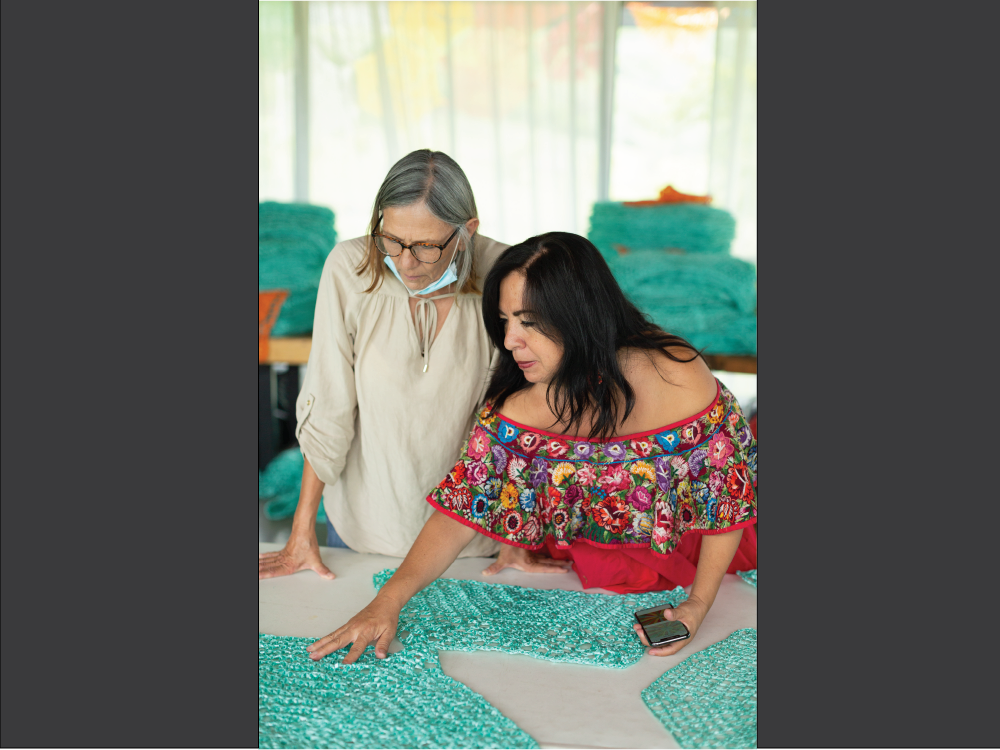 Fabric development process for the facade of the Mexican pavilion at Expo Dubai