Have you ever wanted to sell everything and travel the world? a little over a year ago, Thomas Swan (63) and Georganna Hawley (70)an American couple, made this decision and started a new life full of adventures.
this couple I lived in a small town in Los Angeles, California (USA). Thomas ran a financial advisory firm and Georganna was a retired archaeologist. Throughout their lives, they had to get used to traveling much less than they wanted because they had hardly more than 2 weeks of vacation per year. In such a short time, it was very difficult to know the places where they were going and, above all, to know the people who were there.
It all started when her children left home. There they began to feel that their house was too big for them. Later, when the coronavirus pandemic took over lives around the world and we were forced into lockdown, Thomas' business went digital and started operating online. From that moment, they both realized that if the only thing they needed to be able to work was a stable connection to an Internet network ("wifi"), then they could drastically change your lifestyle.
One of his biggest inspirations was that of 'Senior Nomads', which they had been following for a while before making the decision. "Senior Nomads" is nothing more than the nickname of Debbie and Michael Campbell, two retirees who since 2013 have been traveling the world living almost exclusively in Airbnbs. Before leaving in 2013, they rented out their house, sold their sailboat and cars, and trimmed their stuff down to one suitcase. They then said goodbye to family and friends and set out to explore the world.
Taking the story of the "Senior Nomads" as a model and adapting it to their ideas, Thomas and Georganna they made one of the most important decisions of their lives: to sell everything and live by traveling the world. Since then, they share their adventures through their Facebook page Two Travellers.
Live like real nomads
As they told us in an interview, in just a few weeks Thomas and Georganna got rid of most of their stuff. They sold the house and the car and donated a huge amount of items and clothing to those who needed it most. From there they said goodbye to their loved ones and took off from Seattle (USA) to make the world your new home.
As Thomas is still working, the couple take the opportunity to travel during the day and enjoy their walks in the sun. For housing, they mainly opt for Airbnbi.e. vacation rentals. From time to time they have also spent nights in hotels, but Airbnb makes them feel really at home and, in addition, having a washing machine is perfect for those who they live on a little more than what fits in a suitcase.
Compared to fees, living like this costs them "a third of what we spend per month when we were in Los Angeles and enjoyed it twice as much," they say. "Not having a house or a car takes away a lot of expense. Moreover, they say that the prices in most places they went, and especially in Spain, surprised them when they were much lower than they were used to: "Eating in Europe, it's so cheap," they point out.
The first stop on their route was the city of Vienna (Austria), from where they had traveled for weeks. Sometimes they establish a home base but continue to travel. This way they don't have to move all their stuff every time they move. Likewise, every time they move to another city, they donate some of their stuff to charity because, according to what they say, "they realized they didn't need as much" as they thought.
From Austria, they took a train to Venice (Italy), where they also stayed for a month to discover other cities in the country. Thereafter, although they chose preferably the way to travel that would cause the least damage to the environment, decided to rent a car with a driver who spoke languages ​​so that border crossing would not be a problem along the way. The driver took them to Pula (Croatia).
Once they arrived in Croatia, they also took the opportunity to go through Zadar, Split, then spend Christmas in Dubrovnik for a month. Of the, they flew to Istanbul (Turkey), where they started this 2022 and they settled for a long time. Additionally, they hired a tour company to discover cities like Fethiye, Side and, finally, Cappadocia, known for the classic landscape of hot air balloons over "fairy chimneys", cone-shaped rock formations. .
Once your route through Turkey is complete, they flew to Madrid to discover Spain. In our country they have been to Barco de Ávila (Ávila) and Estepona (Málaga), where they point out that they have eaten very well and for very little.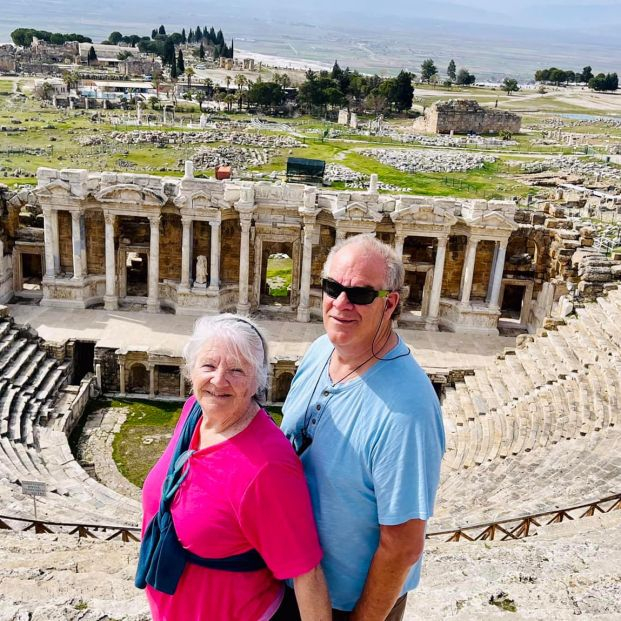 Being together, the best of everything
Asked what was best about leading this lifestyle, Thomas and Georganna said that "The best thing is to be together, all day, every day, and we've realized that's what we want. To be able to share all these views and experiences is amazing. There's nothing quite like seeing something wonderful, pointing to it, and telling the person next to you to watch and enjoy it with them. Being able to share all these wonders with the person you love is the best."
In this sense, they are not just a married couple but life partners. They support each other at all times and, above all, highlight the Importance of having someone by your side when traveling constantly.
As for the hardest part, Georganna said, "The worst part of it all is that I can't find my favorite toothpaste." They report that they have found substitutes for most of the American products they used, but in the case of toothpaste, they haven't been able to do so yet. Likewise, Thomas said they were from an area where it hardly ever rains, and "since we started traveling I've seen more rain than in the rest of my life." On the other hand, they both say that they continue and will continue to see their familiesat least once or twice a year.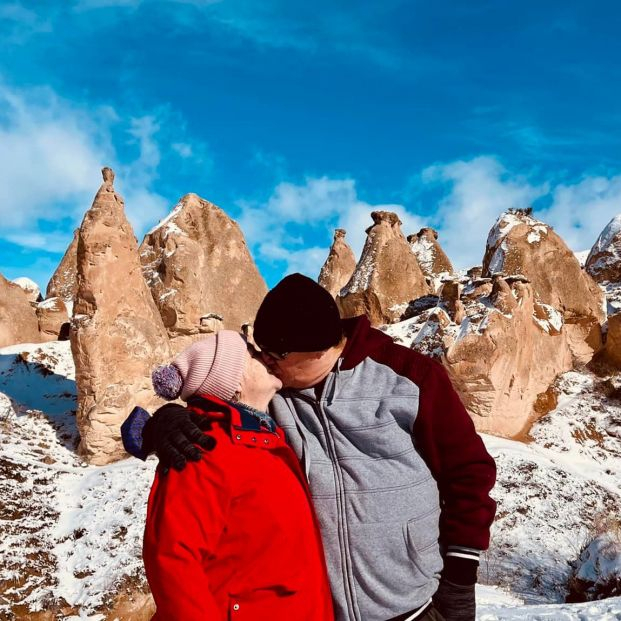 Age has never been a barrier
Currently, Thomas and Georganna say to themselves that they like to live like this for the moment and that, as long as their health allows it, they will continue their adventure. "As soon as our health tells us to stop, we will take it into account. In the meantime, there are many places in this world that we want to visit, so we must enjoy it as long as we are both well".
"Age for us has never been a problem", they say. They don't push themselves too hard with the weight they carry, but feel able to lead this lifestyle without a problem. They walk a lot on their excursions, which they say is "very good for us".
Thomas and Georganna explain that to live like this, "you have to like to travel and be flexible. You shouldn't expect everything to go as planned". During his travels, had the opportunity to meet many other 'Senior Nomads' with whom they were able to create good friendships and with whom they also realized that "there are more people than we thought who live like us". In this sense, they say that the majority of "Senior Nomads" they encountered were Canadians, Americans and Australians. "We don't see many Europeans doing this," they point out.
His next destinations are Paris (France) and Poznań (Poland). Either way, both want to travel to other continents. That's why they're already thinking about "a Caribbean cruise or even Australia or New Zealand." They also add that they are "very eager to know South America". Finally, they point out that what they are trying lately is to move according to the sun. In other words, they are looking for temperatures and climates that are a little more stable and sunny.