The "UAE Hike & Fly Championship" combines paragliding and hiking, in line with the famous X-Alps circuits.
This is the first international competition of its kind in the United Arab Emirates and, as expected, it has a grand organization and format, with the participation of big names in the sport and a cash prize of 10,000 euros for the winner. .
The participants were invited expenses paid and the first test was something different than expected: walking up the 77 floors of the Address Beach Resort building to take off from its roof, in the heart of downtown Dubai!
In the live stream of the first round, you can see the takeoffs from the building:
As in any other hike and fly competition, each participant will progress according to their own physical and technical abilities, flying the planned routes to their chosen take-off, then flying from there to the objective that sets the day's challenge. . The following rounds will be more classic "Hike & fly" in natural settings of the Arab country.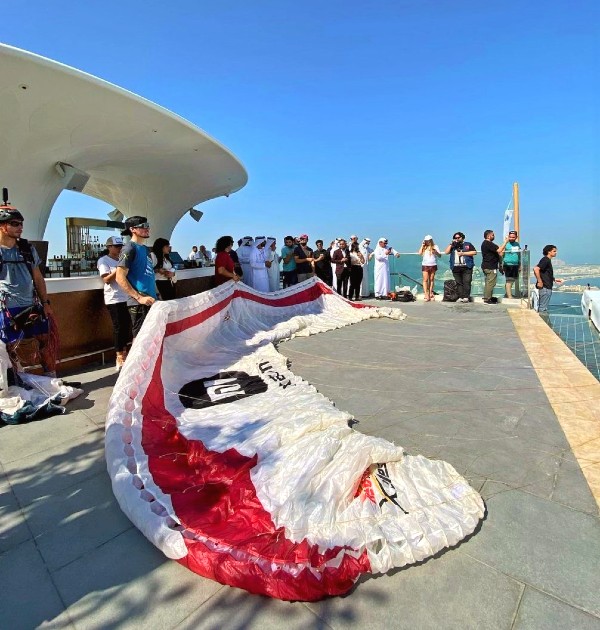 For this championship, 26 of the best pilots in the world of this modality have been selected, among them the seven-time champion of the "X-Alps" Chriguel Maurer, the height record holder Antoine Girard and the Infinity Tumbling record holder, Veso Ovcharov.
Complete list: Aaron Durogati (ITA), Antoine Girard (FRA), Alex Villa (COL), Eduardo Gaza (MEX), Chrigel Maurer (SUI), Gavin McLurg (USA), Hanes Kemp (SUI), Logan Walters (USA), Markus Anders (ALE), Michael Siegel (SUI), Manuel Nübel (ALE), Michael Gierlach (POL), Nick Neynens (NZ), Michu Witschi (SUI), Patrick Von Kaenel (SUI), Nicola Donini (ITA), Sepp Inniger ( SUI), Stanislav Mayer (CZE), Sebas Ospina (UK/COL), Simon Oberauner (AUS), Steve Bramfit (ENG), Tanguy RG (FRA), Tim Alongi (FRA), Tim Rochas (FRA), Tommy Friedrich ( AUS) and Veso Ovcharov (BGR).
CHRONOLOGY:
1st day
Pilots will start at the bottom of the Burj Al Arab hotel and head to the hotel's TP01 helipad. Then continue by plane or on foot to the next TP02 at Dubai Marina. After signing the name, they can fly or walk back to the Burj Al Arab Hotel finish panel TP03, where the Day 01 race will end. *Finally changed to the Address Beach Resort building.
Day 2
Pilots will start 10km below the main take-off point in the Jebel Jais TP01 area (25º91'95.5"N 56º13'27.2"E), and climb to TP02 (25º94'40.6"N 56º15'65.2"E) where they will sign their names, then pilots will fly or walk to TP02 (25º34'14.3"N 56º09'57.9"E) (1km radius) around Antena with no obligation to land. On race day, it will end at the designated area of ​​Khorfakkan Beach. The total distance is about 70 km flight.
Day 3
The pilots will start in the roomfrom Khorfakkan and walk west to TP01 (25º21'47.3"N 56º20'03.5"E) to the top of the 900m mountain. From here pilots will run south to TP02 at the top of Port Mountain (25º20'08.7"N 56º22'01.8"E) From here pilots will fly or run to the end of the beach where TP03 is at the end of the daytime
Day 4
Runners will depart from Al Faya airstrip and run towards take-off point TP01 (25º06'71.8″N 55º81'51.6″E) after take-off it will be a run towards TP02 heading north where they will need to sign the sign . (25º05'30.3"N 55º49'59.4"E) after takeoff, they must join TP03 to the North (25º06'31.4"N 55º50'06.1"E) cylinder of 200m and return to the South until TP04 (25º03'05.1 " N 55º48'37.6″E) The 200m cylinder race will end at the same point of the start on the course at the Al Faya TP05 facility (25º04'08.5″N 55º48'43.4″E)
You can follow the event live until November 27 via the following link: https://uaehikeandfly.ae/live/
*Follow the event on Instagram: https://www.instagram.com/uaehikeandflychampionship/