The Ingolstadt firm has just completed the trilogy of prototypes it announced almost a year ago with this sensational Audi urbansphere concept. This futuristic creature now arrives to join the already well-known Audi skysphere concept and Audi grandsphere concept, forming a family of prototypes that will lay the groundwork for the development of the German company's next models.
All the details of his two brothers were already known, but now it's the turn to meet this striking vehicle developed to move in great detail through the megacities of the future.
This Audi urbansphere concept is 19 centimeters longer than an A8 L.
Precisely this detail already announced by the German company, which promised a prototype designed for large cities, it was reminiscent of a small practical vehicle. The perfect option for getting from point A to point B. But nothing could be further from the truth because this Audi urbansphere concept becomes the most corpulent prototype ever developed by the firm with the four rings.
So much so that Audi's first foray into the minivan world disappeared sports a body that measures no less than 5.51 meters in length. To give you an idea, that's 19 centimeters longer than the length of a long-wheelbase Audi A8. This prototype is also 2.01 meters wide and 1.78 meters high.
Designed from the inside out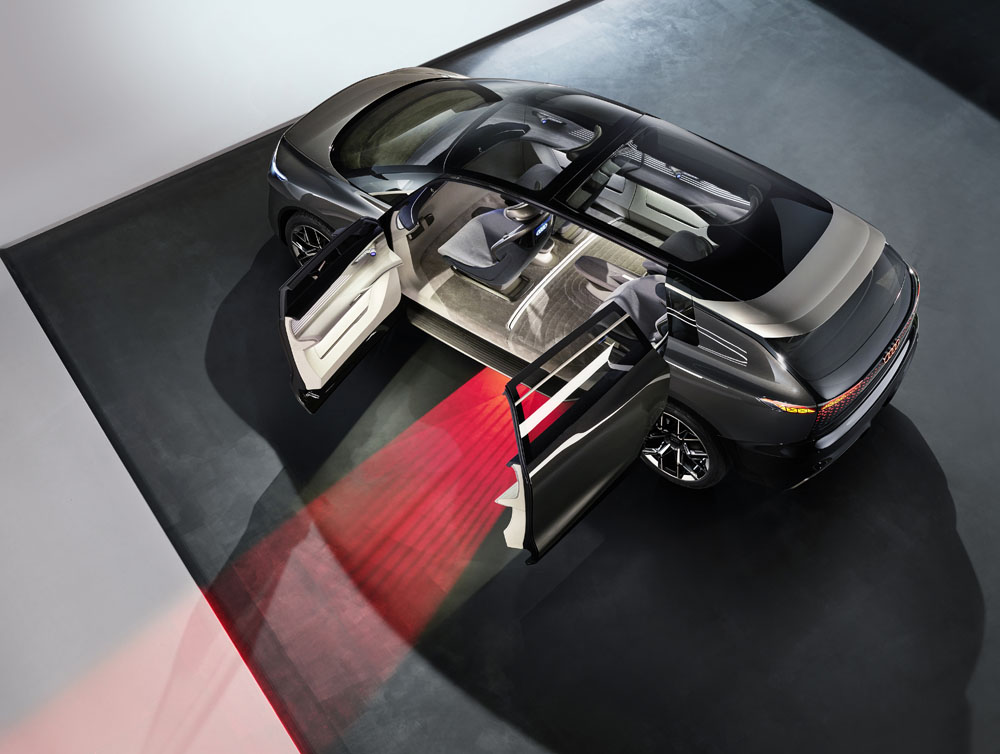 Like its two other siblings in this futuristic sphere family, this particular Audi urbansphere concept was designed from the inside out. For this reason, they paid special attention to space. Yes for this reason it has a platform that gives it a wheelbase of 3.40 meters. They are 272 millimeters longer than the aforementioned Audi A8 L. So much so that a Fiat 500 could almost slip between the axles of its wheels.
To access this spacious interior, Audi has developed doors with opposite opening. This Audi urbansphere concept is devoid of a central pillar and has an advanced lighting system capable of projecting a virtual red carpet on the asphalt so that its occupants feel like real stars. Aspects such as interior lighting have been significantly enhanced, betting on large glazed surfaces.
With such dimensions, Audi could have created a miniature bus filled with seats. However, in this bright cabin, there are only four real individual seats. Sit back and enjoy, the journey has only just begun.
Four seats to travel at full speed in this Audi urbansphere concept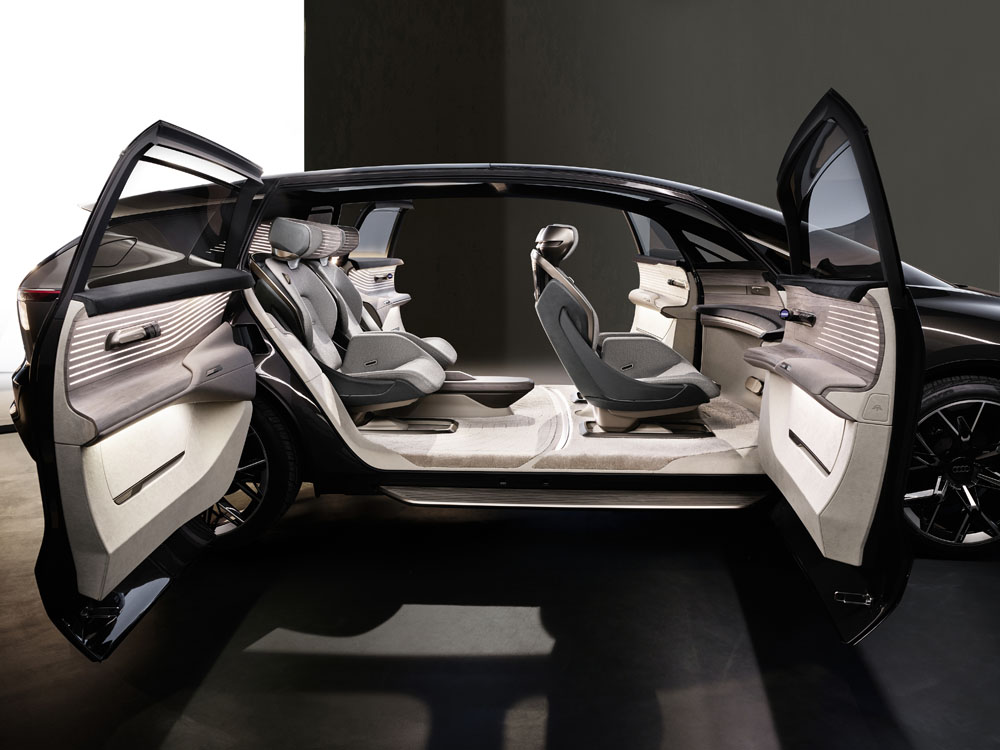 The two comfortable rear seats have been designed to enjoy and relax. These two seats offer a large number of adjustments, among which their Relax or Entertain programs stand out.. In both cases, their backrests can recline at an angle of 60 degrees, at the same time as their footrests extend and their elbow rests descend, which creates an atmosphere of safety. These seats are also equipped with an integrated audio system, as well as their own seat belts.
Entertainment is provided by two screens placed behind the backs of the front seats, to which adds a transparent OLED screen that emerges from the ceiling. This also serves as a separation between the front and rear environments, but keep in mind that its two front seats can rotate 180 degrees and face the rear seats.
This is possible thanks to autonomous driving system that this Audi urbansphere concept has. When activated, the steering wheel, pedals and dashboard are completely hidden, so driving is the last thing you need to worry about.
Autonomous driving and quality materials for this Audi prototype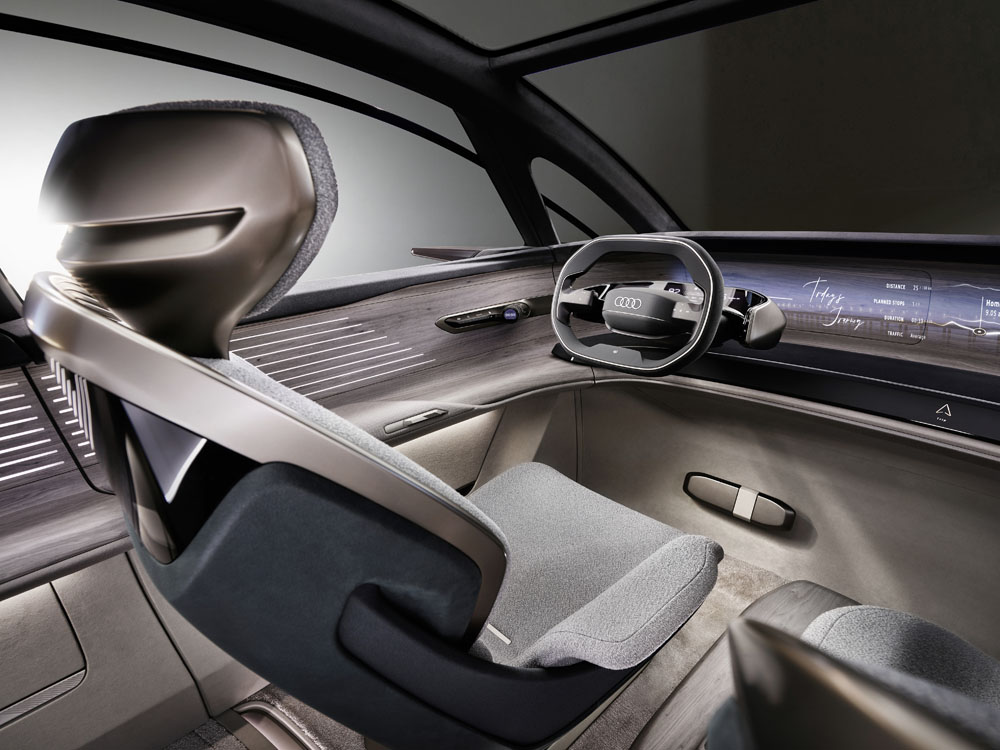 How could it be otherwise in a premium brand, the materials that Audi uses in its urbansphere concept shine at a high level. This does not mean that they have not chosen to use synthetic fabrics and many others that are sustainable with the environment..
Proof of this is the hornbeam wood used in its cabin, as well as the seats are upholstered in a fabric called ECONYL and the armrests are made with a bamboo viscose fabric.
If by chance the driver wants to take control of this Audi urbansphere concept and enjoy driving and its powerful electric propulsion system, just disconnect the level 4 autonomous driving system. Then the steering wheel, the pedals and the dashboard return to make their appearance. It is in the latter, dressed in natural wood, that all the information relating to driving is projected, since the screens have been abandoned. In this area there is also a bar with integrated sensors to interact with the vehicle menus: navigation, multimedia…
Highest technology in the Audi urbansphere concept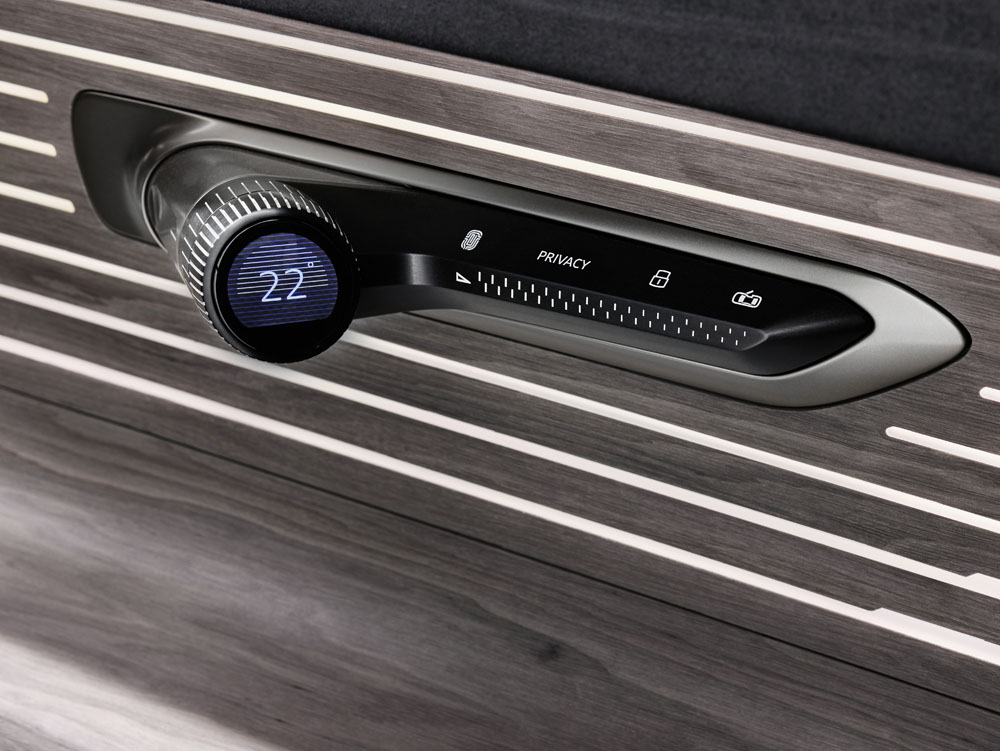 But it's in its doors that the MMI contactless response is imitated. We are talking about a touch selector with a rotary control and various buttons that allows its occupants to interact with this Audi urbansphere concept. However, if the seat is in its relaxed position and you can't reach this non-contact response HMI with your hand, you can also do so thanks to the eye and gesture tracking system that hides this futuristic prototype. as is clear, It is also considering artificial intelligence to learn from the habits of its occupants.. The rear will also have the option of enjoying a virtual experience thanks to the glasses that are in the panels of the rear doors.
Characteristic Audi design. And also of your near future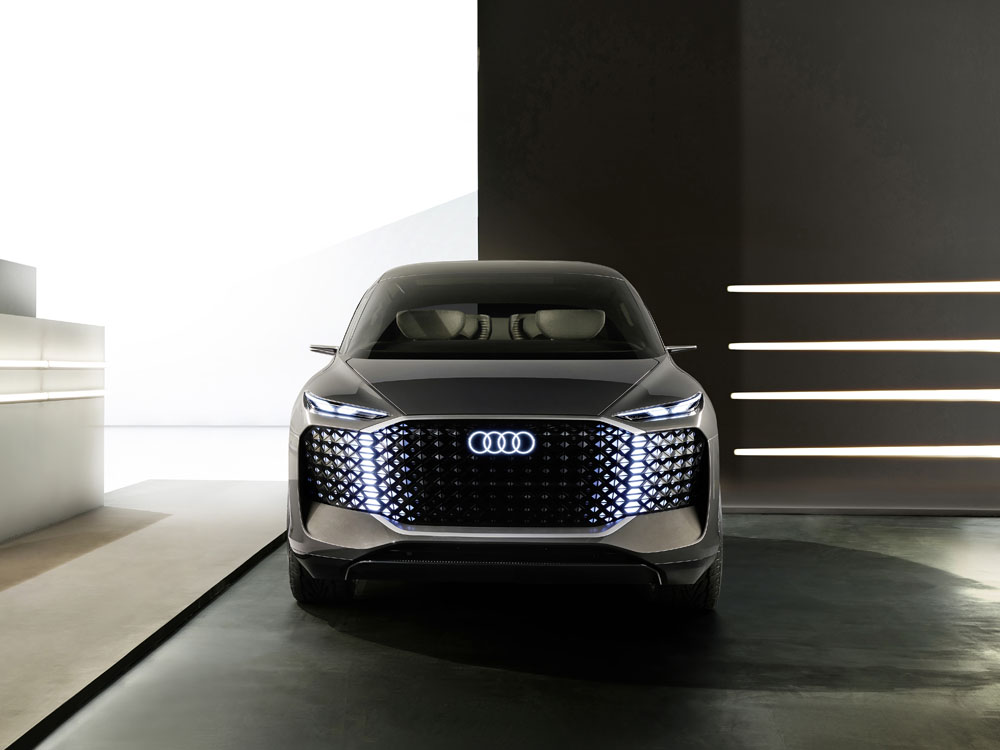 As we said, this Audi urbansphere concept was designed from the inside out. For this reason, now is the time to analyze the design of this great prototype on the front of which the characteristic Singleframe grille is retained. Although its electric nature allows it to acquire another meaning by being flooded with small LED diodes that allow interaction with the rest of the road users. It is escorted by two thin headlights called Audi Eyes, equipped with digital LED technology. For their part, the rear drivers rely on the LED matrix.
The designers of the German firm have given this large prototype a wedge-shaped profile that allows it to hide its large proportions. The lower part of its silhouette is also marked, indicating the position occupied by the batteries on its platform. The mythical Audi Avus of the 1990s inspired the German house to design its gigantic 24-inch wheels..
It was born on the advanced PPE platform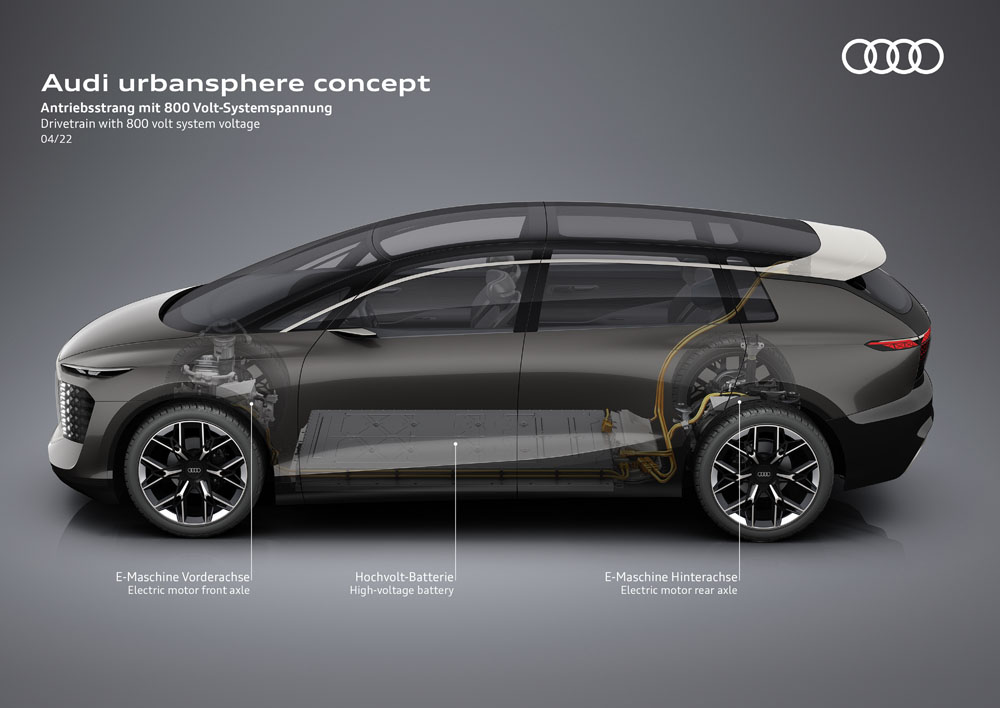 Like the well-known Audi skysphere concept and Audi grandsphere concept, this latest member of a futuristic family of prototypes is based on the advanced PPE (Premium Platform Electric) platform. In the center is a large battery with a capacity of 120 kWh.. This includes 800-volt charging technology, enabling charging powers of up to 270 kW. In other words, ten minutes is enough to recharge the battery to a level sufficient to drive more than 300 kilometers. Moreover, this battery can go from 5 to 80% in less than 25 minutes. And besides, with it "at the top", it announces up to 750 kilometers of autonomy in the WLTP cycle.
This battery is responsible for powering the two motors behind this Audi urbansphere concept. One per axle to equip it with the hallowed quattro transmission from the German house. Between the two, they are capable of generating 295 kW of power (401 hp) and 690 Nm of torque.. Its performance remains anonymous, but to optimize energy consumption, the front motor can be cut to reduce friction.
Despite its size or its urban character, Audi has not neglected the dynamics of this prototype. On your PPE platform independent suspensions have been installed on both axles, in aluminum and equipped with an adaptive pneumatic system which will offer its occupants the feeling of traveling on a real flying carpet.