Spain maintains a strong image as a destination for travelers from Germany, with high consideration rates, both when considering holidays and when booking, approaching those recorded before the COVID-19 pandemic . Likewise, our country continues to establish itself as the preferred enclave of the British market, with indices of consideration, travel intention and security above the levels obtained in 2019. In addition, French demand will maintain a sustained pace. next summer and will even allow it to exceed more than 80% of the pre-crisis volume. This is how it is collected in the new trend reports that Turespaña has prepared for the next summer season at the travel request of 25 source markets -excludes Russia as long as it does not become a source market again. These analyzes also echo resumption of destinations such as Greece or Turkeyespecially for British tourists.
The new trend reports they replace the past outlook and situationwhich was produced by Turespaña and will be published twice a year: in April, to present the main trends of the summer season, and in mid-October, for the winter season.
The data is presented in a homogeneous way in the different reports in order to facilitate their interpretation and their comparison and they have an analysis of the context provided by the Departments of Tourism of Spain in each of the issuing markets.
The information is based on a large number of external sources which vary from report to report, depending on their availability and coverage. Among them are: INE, OECD, Magrian, YouGov Destination Index, OAG Schedules Analyser, Skyscanner, Google Destination Insights and Forward Keys.
Data corresponding to the UK market.
On Germanythe Turespaña report indicates that, although the forecasts for the summer allow us to be optimistic, cyclical factors such as inflation, energy prices, which can make flights more expensive, or the estrangement from fate in one context of uncertainty from Russia's invasion of Ukraine and its possible negative impact on the economy, may favor a decline compared to other destinations.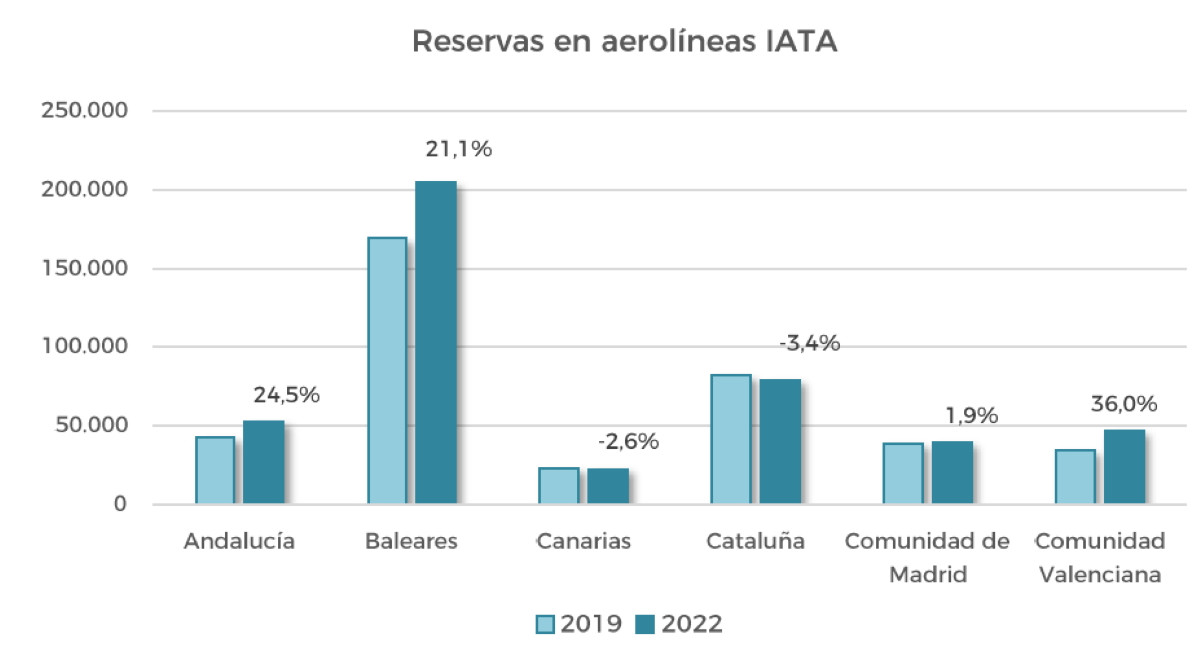 German market.
The report corresponding to UK market stresses that searches in engines such as Skyscanner or Google confirm the interest in Spain, with a clear predominance of searches for accommodation compared to competing destinations.
Spain's air capacity is still 6.9% lower than in 2019 for the summer, but it is well above that of other Mediterranean countrieslike Greece or Turkey. Destinations which are however recording significant increases in their capacity, thanks to the clear commitment of certain tour operators, such as TUI. An improvement which, in the case of Turkey, but also of Egypt, is due to the recovery of part of the capacity diverted to Spain in recent years due to the conflicts in the region.
There is an avalanche of searches and bookings to Spain from the UK as restrictions have been eased, but some recovery is also being seen to markets like Greece and Turkey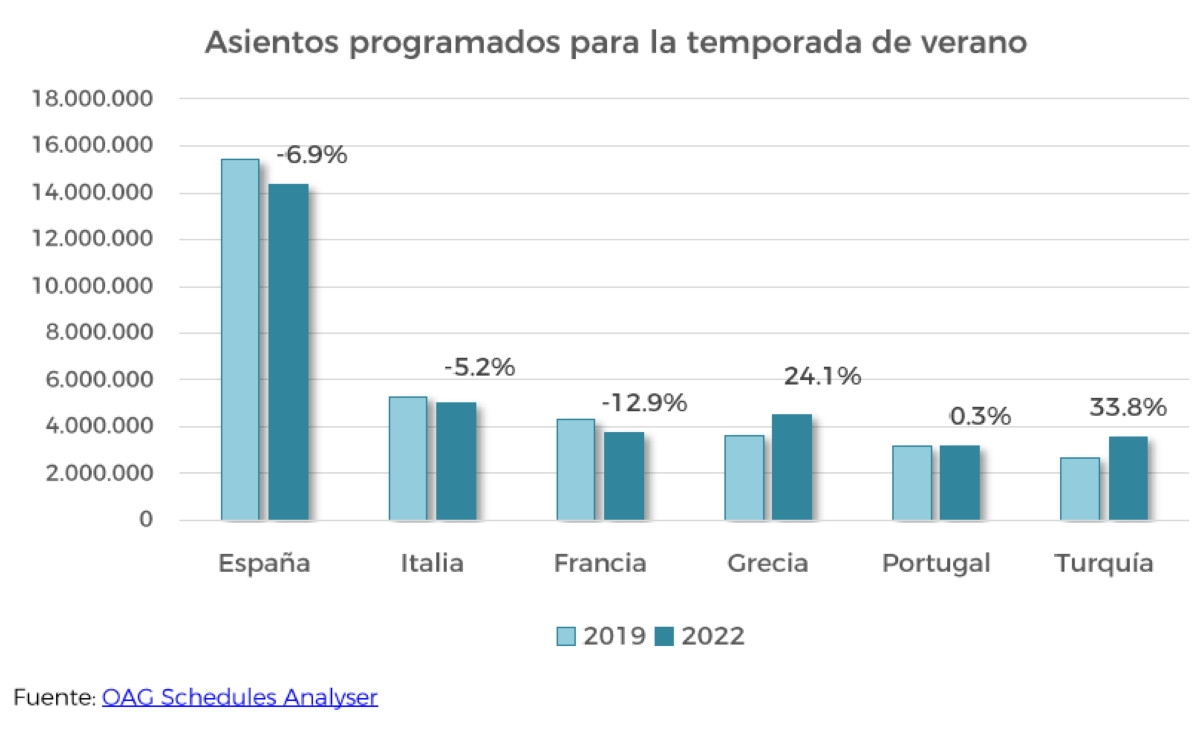 From the United Kingdom.
The study analyzes other European destinations such as Finland, Sweden, Switzerland, Austria, Belgium, Denmark, Ireland, Italy, the Netherlands, Poland and Portugal.
long radius
As far as long-haul markets are concerned, Spain is in fifth position in the purchase intention of travelers from United States among European destinations, and in fourth place in terms of travel consideration. The report indicates that there are 22 regular connections between Spain and this country, two less than in 2019.
Also, there was a significant increase in direct air connections between Mexico and the Spanish destination, which, together with the gradual easing of health control measures for access to Spain and the high level of intention to travel to our country, favor optimistic arrival forecasts for the summer .
Until Persian Gulf countries, the outlook is good and the number of thefts has increased. In addition, according to information from Turespaña, Spain's image has not been altered in recent years and it is still considered an attractive and safe country.
Reports include other long distance destinations such as Brazil, Australia, China, India, Japan, Argentina, Brazil and Canada.